The roof of the Saint-Nazaire submarine base
Constructed in an incredible 16 months starting early in 1941, this base is one enormous block, 301 metres long. Nearly half a million cubic metres of concrete were poured in, resulting in one of the most strategic constructions in the Battle for the Atlantic. The roof is up to 9.6m thick, housing not only the much-feared U-Boats, but also offices, workshops, storage facilities, medical services and living quarters for the hundreds of men stationed here up until May 1945.
Nowadays, the submarine base is a vast leisure centre, as it's home to the Tourist Office, VIP concert venue, LiFE exhibition space, and the renowned ocean-liner museum, Escal'Atlantic. Its roof is an oversized belvedere that calls you to contemplate, observe and explore, artistically, thanks to one of the works from the Estuaire Nantes <> Saint-Nazaire trail, the Jardin du Tiers Paysage by Gilles Clément.
You can walk up to the roof of the submarine base via a ramp or take the lift that you'll find next to the central ticket office. For details of opening times simply ask at the Tourist Office.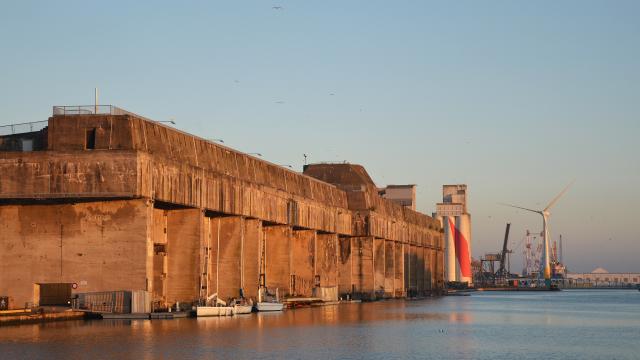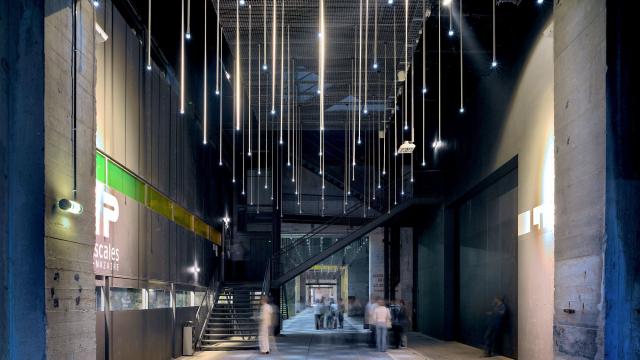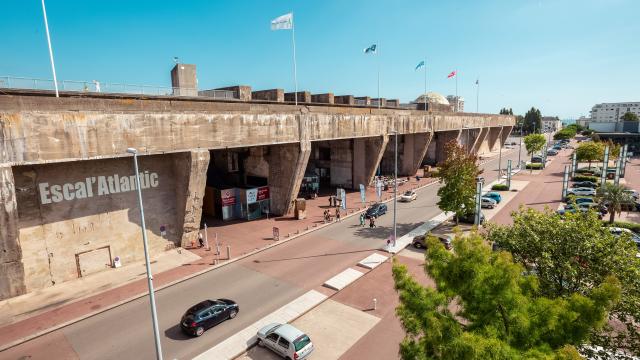 The viewing platform of the fortified lock
The fortified lock is the smaller neighbour of the submarine base, facing each other across the harbour basin. A remnant of World War Two, this lock now houses two tourist sites: the EOL Centre éolien – where you can learn about offshore wind turbines – and the Espadon Submarine – the only floating submarine in France that you can board and visit.
The viewing platform gives visitors a 360° view across the town, from Saint-Nazaire Bridge to the district of Petit Maroc, from the harbour basin to the shipyards. It is home to historical treasures such as the canon that came from the hero of Operation Chariot – the British destroyer, HMS Campbeltown – and an artistic gem from Felice Varini, 'La Suite de Triangles'. Try to find the exact point at which this supersize artwork all makes sense: at one exact point, the geometric forms that are scattered throughout the port suddenly come together like magic, forming a coherent whole (thanks to the principle of anamorphosis).
The panoramic viewing platform above the lock can be reached on foot using an outdoor staircase, or using a 2-person lift. This platform is open subject to the opening times of the other visitor sites in Stunning Saint-Nazaire (EOL Centre éolien and the Espadon Submarine). To check opening times, please ask the Tourist Office.