Immersive visits for families
Where can you learn close-up about the submariner's life, or get a taste of what it would be like to head off on a liner on a ten-day transatlantic crossing? At Saint-Nazaire, of course! The town's major visitor attractions prove as attractive and involving for children as for their parents. So make sure you visit Escal'Atlantic, the submarine Espadon, the town's Ecomusée, and EOL Centre éolien, a centre devoted to offshore wind energy.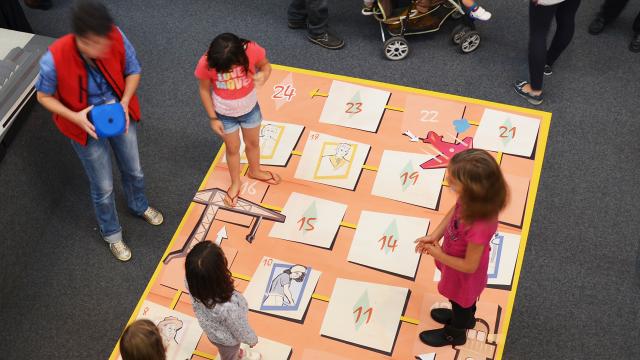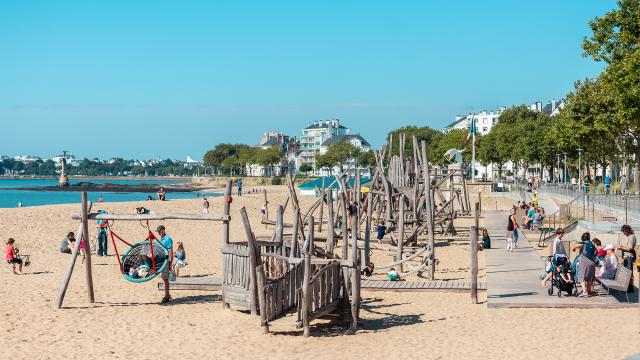 Do you just want to play, play, play?
Well great, because we've got plenty of playgrounds! The most unique is on the central beach, the Plage de Saint-Nazaire. Here, the games are made from wood and thick ropes and encourage you to climb and do gymnastics, as well as digging in the sand. Some of the games are accessible to children with reduced mobility, while others are reserved for the very young. In the town centre, also seek out the sea dragon, an outsized structure that children love!
You'll find further playgrounds beside Le Bois-Joalland Lake, in the Immaculée Quarter, in the Parc Paysager and in the Jardin des Plantes (botanical gardens). If it's rainy, Geckoland, an indoor playground, offers a great solution for a place to go and have fun.
Walk around town with Tintin!
Tintin has fans of all ages. If you and your children are keen on the cartoon reporter with his trademark quiff, you'll be delighted to encounter him round and about in Saint-Nazaire… and an outsized Tintin at that! Why? Because a whole page in "The Seven Crystal Balls" is set in Saint-Nazaire, at the time when it was a major port for transatlantic travel.
When our cartoon heroes arrive at Saint-Nazaire, they wander along the quays in search of a friend. Six illustrations taken from the album have been enlarged and put up in the very spots where the story takes place, around the port and the submarine base…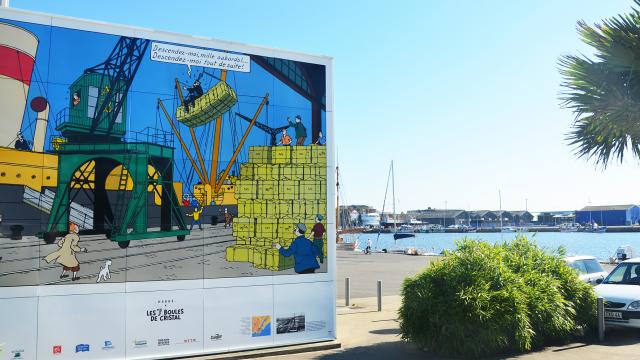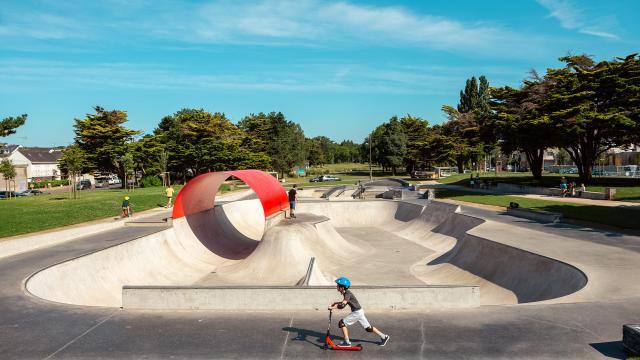 Also consider…
The superb seafront skate park with its fullpipe; it's a big hit with skateboarders!
The very pretty, old-style carousel, or merry-go-round, that looks like it's been lifted straight out of a children's picture book. It's located by the Sautron round-about, a hop and a skip away from the seafront promenade.
The outdoor leisure park in the Parc Paysager (on the side of Rue de Pornichet), with its water merry-go-round, its pedal-karts and its crazy golf course, on the theme of the marine world.