Here, enjoy the generous skies, sun and sea…
The people of Saint-Nazaire long kept it a secret that their stretch of coast, several kilometres in length, concealed so many enchanting beaches and coves. Today, we boast that the destination Saint-Nazaire has 20 beaches and coves, two designated Handiplage (with facilities for the handicapped), six provided with lifeguards in summer, and one a star in a famous French film, Les Vacances de Monsieur Hulot. Plus, three of our beaches have gained Blue Flag status.
Do you have lively little ones? Young and old alike will love the beach games made from driftwood on Saint-Nazaire's central beach, featuring wooden castles, bridges and diggers, as well as swings. This is an adventure playground where children can run about barefoot in the sand!
Do you have older children into skimboarding and windsurfing? Then head for La Courance or Saint-Nazaire's main central beach, with Le Skate Park water sports centre.
Are you looking for tranquillity? Seek out the little coves around Port Charlotte or at La Petite Vallée for peace and quiet.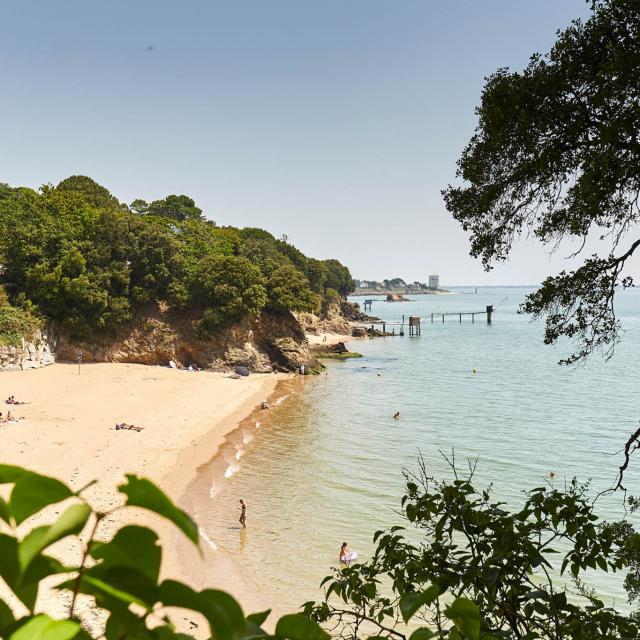 Beaches for all seasons
Looking to relax after a hard day's work? Some of our beaches are practically in the heart of town: the Plage de Saint-Nazaire, in front of Place du Commando; the Plage de Villès-Martin, with its bus stop, plus a bar offering snacks (April to September); or, to the west, there's Saint-Marc-sur-Mer's large beach, with bars and restaurants, plus memories of comic character Monsieur Hulot.
Intrigued by our pêcheries, the fishing huts hanging over the Loire Estuary? Head to the little port of Trébézy or to Sautron to see them close up.
Or, if you simply wish to admire a magnificent sunset… try any of Saint-Nazaire's many beaches!
So, in your view, which is your favourite Saint-Nazaire beach?