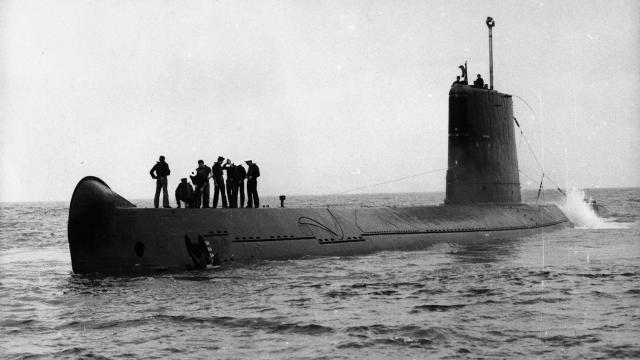 The Espadon Submarine once belonged to the French Navy. Launched in 1960, it served for 25 years, used for observation missions and for training submariners. Nowadays, it is the last example of the Narval-class torpedo submarines. As the first French submarine ever to have dived under the ice, this vessel is a precious example of 20th-century technical and maritime history.
As an official exhibit for Saint-Nazaire Ecomusée, Musée de France, it is the only submarine to have the honour and protection bestowed by such a status.
Visite du sous-marin Espadon à Saint-Nazaire
Visite du sous-marin Espadon à Saint-Nazaire
Having opened to visitors in 1987, this was the first submarine in France that you could board and explore. Since then, nearly 3 million people have looked around its engines, navigation equipment, and onboard living quarters. After thirty-three years of visits, the submarine needed to close its hatches temporarily, as rust and corrosion threatened its strength inside and out: time to launch an ambitious programme of restoration to guarantee the long-term survival of this exceptional piece of heritage!
The submarine is due to be open again in July 2021, ready to offer visitors a whole new experience and an unforgettable journey under the waves.
The outer hull:
Restoration of the deck: perforated sheet metal, corrosion on the base of the tower, missing hatches
Cathodic protection of the submerged parts of the hull
Treatment of the corroded air-water zone
Repainting
Inside:
Cleaning and treatment of the corroded areas
Cleaning and restoration of paintwork
Treatment of the upper deck
Treatment and restoration of fabrics, wood and metal
Remplacement of missing parts, using identical pieces from other submarines.
This restoration project is led by the conservation team of Saint-Nazaire Ecomuseum, in collaboration with expert restorers and experienced organisations from Musées de France and Monuments Historiques, accompanied by former submariners.
Businesses and individuals alike can join forces to finance this project thanks to the 'Fondation du patrimoine' heritage foundation. By contributing, you will participate in the restoration of the Espadon submarine and support a large-scale project seeking to preserve and showcase this exceptional example of French maritime heritage.